4th Annual All Disabilities Festival
Sunday, July 28th
9am-6pm
Genoa Park, 303 W. Broad St., Columbus, OH 43215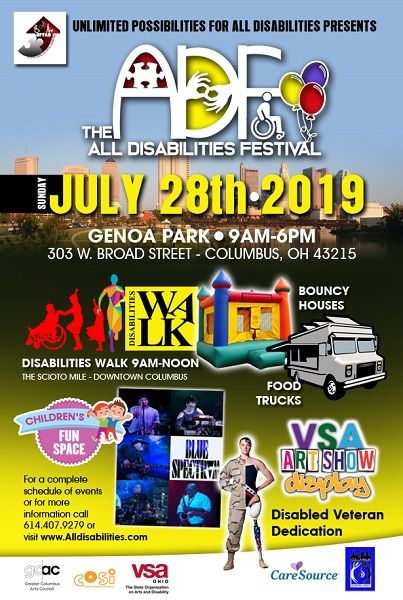 Unlimited Possibilities For All People (UPFAD) is pleased to invite you to attend the 4th Annual All Disabilities Festival. This free, exciting community event will be held at Genoa Park located at 303 West Broad Street in Columbus on Sunday, July 28th from 9am to 6pm.
The festival features live entertainment and arts, a wellness fair, a children's fun space, retail vendors, food trucks and community resources. There will also be a segment honoring disabled veterans, an art tour by VSA Ohio and the All Disabilities Walk from 9am to 12pm.
Interested in being a vendor? Call the customer service line at 614-407-9279 or email the customer service account at
alldisabilities@gmail.com
.