22nd Annual All American Columbus Pet Expo
"The Greatest Pet Show on Earth"
March 11, 12 & 13 3 Big Days!
Friday 1-8pm Saturday 10am-7pm Sunday 11am-5pm
Ohio Expo Center & State Fair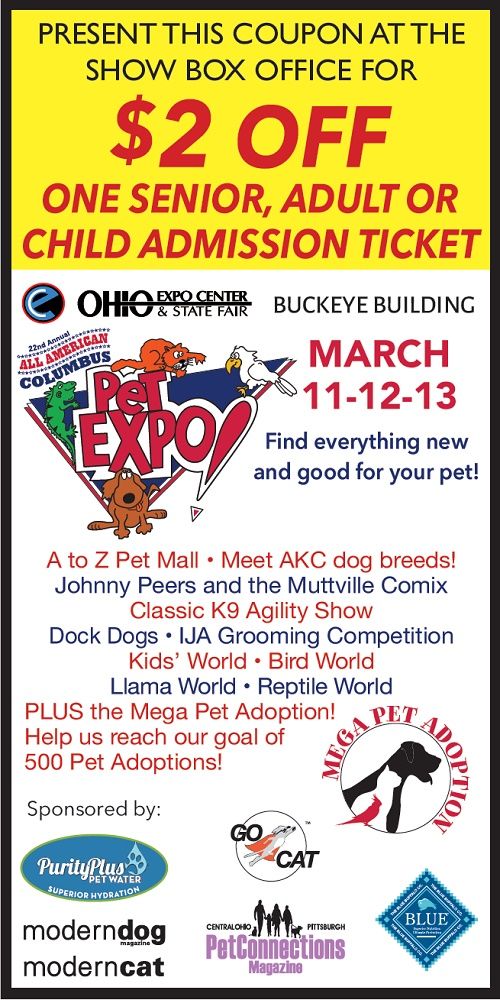 Come to the 22nd Annual All American Columbus Pet Expo! It's Non-Stop Pet Entertainment for All Ages! Check out the website to see all of the exciting acts and exhibits the show has to offer. This will be the best show yet!
Enter the Help Your Self-ie contest and win FREE pet food of your choice for a year!

Find everything new and good for your pet! Don't miss the 21st anniversary!

Classic K9 Agility Show
Johnny Peer's Muttville Comix Show
Panflov's Amazing Household Cats
Dockdogs
High Jump Competition
Bird World Show
Walk with the LLAMAs
Crab Races Return
IJA Grooming Competition
Captivating Canines, Pirates and Scallywags Show
Reptile World
KIDS' World
Mega Pet Adoption
For show info and discount tickets visit ColumbusPetExpo.com

.