Enchanted Princess Ball of Columbus
Sunday, October 6, 2019
12:30pm-2:45pm
The New Valley Dale Ballroom, 1590 Sunbury Rd, Columbus, Ohio 43219
$44 per person;
Save $8 with Promo Code: princessbelle
Buy Tickets Now!
This event is directed and produced by Paulette's Princess Parties, who also produced
Enchanted Princess Ball & Belle's Royal Wedding
here in Columbus.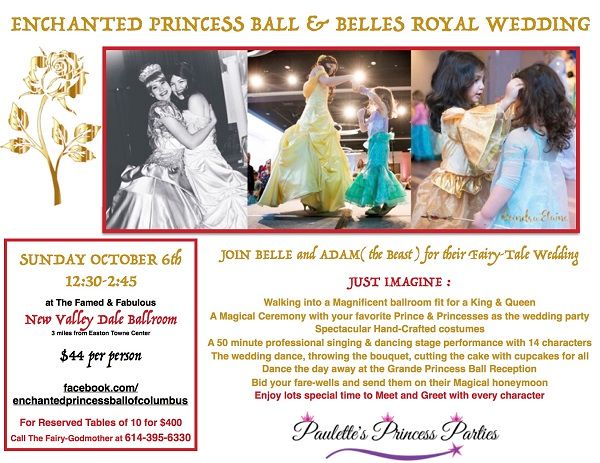 Belle and Adam, the Beast, are getting married at a fairy tale event! Be our guest! One of the biggest, best and most magical princess events come to the Midwest!
Just imagine...
Walk into the famed and fabulous Valley Dale Ballroom (3 miles from Easton Towne Center) with magnificent chandeliers, double bridal staircase and amazing lighting, just like you stepped in the Grande "Be Our Guest" room at Disney!
All the elegance of a real wedding! The bridesmaids are all the princesses and and groomsmen all the princes you know and love adorned in special handmade gowns with lovely bouquets, walking down the aisle. Then at the ceremony, of course Captain Hook will be "hooking" the couple in matrimony.
Greetings by the wedding party of over 12 characters to each and every table! Enjoy a magical 50-minute stage singing and dancing performance by all the princesses and princes.
Then the wedding dance, throwing of the bouquet and cutting of the cake (with cupcakes for all), followed by fun on the dance floor with the characters and lots of meet and greet time! End this incredible journey with a grande farewell as the bride and groom takeoff for their honeymoon!
Wear your wedding attire. General admission tickets are $44 per person (both children and adults need tickets, babes in laps do not) and can be bought on Eventbrite.
Buy your tickets now!
Reserved tables of 10 are $400, so you can sit with family and friends! Get your table by calling the Fairy Godmother at 614-395-6330.
Make a day of it! Brunch at one of the many wonderful Easton Towne Center restaurants before or after the Ball!

Hurry before the last seating is sold out!
DISCLAIMER: Keep in mind that Paulette's Princess Parties is not intending to violate any copyright laws. The characters offered come from legends, folklore and fairy tales that are in the public domain. Any of the other characters who resemblance copyrighted or licensed characters is purely incidental and unintentional. All costumes used are unique and not copyrighted by any large companies. Paulette's Princess Parties is not associated with any large companies or theme parks and does not try to present as such. Paulette's Princess Parties is a private entertainment company hoping to make dreams come true for young and old.
---



A dream is a wish...make dreams come true with one of Paulette's 40 characters. Princesses, fairies, pirates, super star heroes and more. From a simple meet and greet to a singing and dancing extravaganza, Paulette's characters will make you smile from ear to ear.


Available for birthday parties, tuck-ins, events, camps, classes and more. Paulette's Princess Parties can help you plan an unforgettable experience. Paulette's talented group of actresses, actors, singers and dancers will create spectacular memories that will last a lifetime.

Parties Galore!

Enjoy a Magical Experience with a 30-minute character appearance at your home or location of your choice. A coronation, singing, and interactive stories: $110

An Enchanted Party is 60 minutes with a character of your choice. A coronation, singing, dancing, crafts, interactive stories and more: $165

Come to the Royal Palace Studio Extravaganza for a 2-hour Enchanted party. Fully decorated to fit your theme! $28 per child (min of 8), add a character for $50.

A Royal Tuck-in or Rise-n-Shine is a special 30-minute personal experience with one of the characters. Available to join your family for breakfast or come tuck your child to bed: $95.

Paulette's Princess Parties can customize any party to your needs and dreams!

Paulette's Princess Parties loves to come to events and even can do 10- to 30-minute performances!!! Call for special pricing.

For more detailed info: https://www.paulettesprincessparties.com/parties

Paulette's Princess Parties wants to be a part of your world!