Sunday Family Funday at 2021 Columbus Oktoberfest
Sunday, September 12th 11am-5pm
Foam Run starts at 10:40am; Breakfast starts at 11am; Oktoberfest festival starts at Noon
Ohio Expo Center, 717 E 17th Ave, Columbus, OH 43211
FREE Admission (Parking: $10 per car charged by Expo Center)
The fun includes a princess and super hero character meet and greet, foam run, pancake breakfast, character parade, costume contest, story time, and even more time with characters. Also, be sure to take part in the water balloon toss contest, bounce park (fee at event), tons of live entertainment/singers and lot of other neat items for your family!
At the event enjoy tons of food, shopping and entertainment. Come and have fun at this classic event!
Start at the KidsLinked booth, located at the Ohio Department of Natural Resources Pavilion (far south part of the festival in the ODNR park). From there receive information on your registered activities and directions on where to start the fun.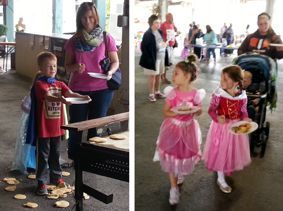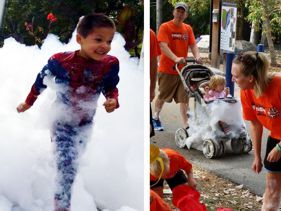 Pancake Breakfast - Princess & Super Hero (11am - 1pm):
This all-you-can-eat fun pancake and sausage breakfast starts by catching your pancakes (or have them served to you). Then meet the princess and super hero, get pictures taken, enjoy story time, sing songs, and more! BREAKFAST COST: $6 for kids / $8 for adults / $20 family 4 pack
RESERVE YOUR SEATS!
Oktoberfest Foam & Treasure Fun Run presented by Ohio ENT & Allergy Physicians (Starts at 10:40am):
Super fun and foam run/walk and includes Pancake breafast! Choose .25, .5, 1, or 2 mile run through foam and collect prizes at our treasure zones! Medals for 1st, 2nd and 3rd for the 1 and 2 mile run. After the race enjoy the princess and super hero pancake breakfast! (Included FREE with each race entry!)
REGISTER NOW!
Princess & Super Hero Parade - FREE (starts at 1pm):
Participate in this fun parade/walk through the grounds of the Oktoberfest led by our character Princess and Super Hero. Great fun for the kids!
Princess & Superhero Costume Contest - FREE (starts 1:15pm):
Enter our fun costume contest! We will have fun prizes for everyone that enters, and the winner of the contest will receive a $100 gift card to Lazer Kraze!
ENTER NOW BEFORE THE CONTEST FILLS UP!
Water Balloon Toss Contest - FREE (Limited to 150 - 1:45pm - FREE):
Pre-register to participate in this classic water balloon contest. Get a partner and be ready to toss a water balloon to each other. Each round the distance gets farther. We will have multiple rounds with prize winners each round, and the overall prize winner receives a $100 Lazer Kraze gift card!
ENTER THE CONTEST NOW!
VIP Entry Bag - fun items! (Limited to 150 - 2-3pm bag pick-up - 1 per family - FREE):
Receive 1 FREE Scene 75 roller coaster ride pass, FREE Texas Roadhouse kids meal, FREE Lazer Kraze lazer tag pass, either a Dave & Buster's $10 Power Card or a $20 for $20 coupon, 5 FREE ATA Black Belt Academy martial arts classes, FREE 101 Beer Kitchen kids meal, FREE sunglasses, FREE hand sanitizer, and even more!
REGISTER NOW!
Additional: Must arrive at the allotted time above to ensure you receive the item. After that time anyone attending will receive it including VIP Bag or ability to enter the contest listed above.
Event Schedule:
10:40am: FOAM Run Starts (staggered start times)
11am- 1pm: Princess & Superhero Pancake Breakfast
1pm: Princess & Superhero Parade
1:15pm: Costume Contest
1:45pm: Water Balloon Toss Contest
2 - 3pm: VIP Bag Pickup
5pm: Event Ends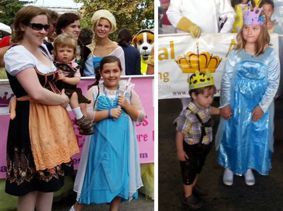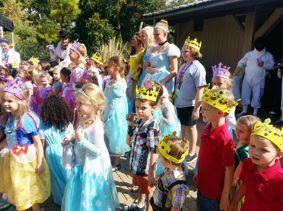 Interested in being a vendor at this KidsLinked event or another upcoming event?